Okay, back the truck up for a second. Who in their right mind just walks into a grocery store and says "I genuinely want to try asparagus."? I must be nuts. I've never even tried this funky looking veggie before, but yesterday my brain said "Snatch that asparagus up, and lets do something spectacular." Insane, trust me, I know. But let me tell you, that strange inkling I had to try asparagus, was one of the best inklings I've ever inklinged. That's not a word. Moving on.
Like I said, I have never tried asparagus before. A little bunch was just waiting inside the front doors of the Commissary, and I decided to give it a go. Since I have no idea what to do with this vegetable, I decided to try roasting it, simply with salt and pepper. I had no idea how well it would turn out, so I didn't take pictures during the process. Hopefully I can talk y'all through it. Seems easy enough.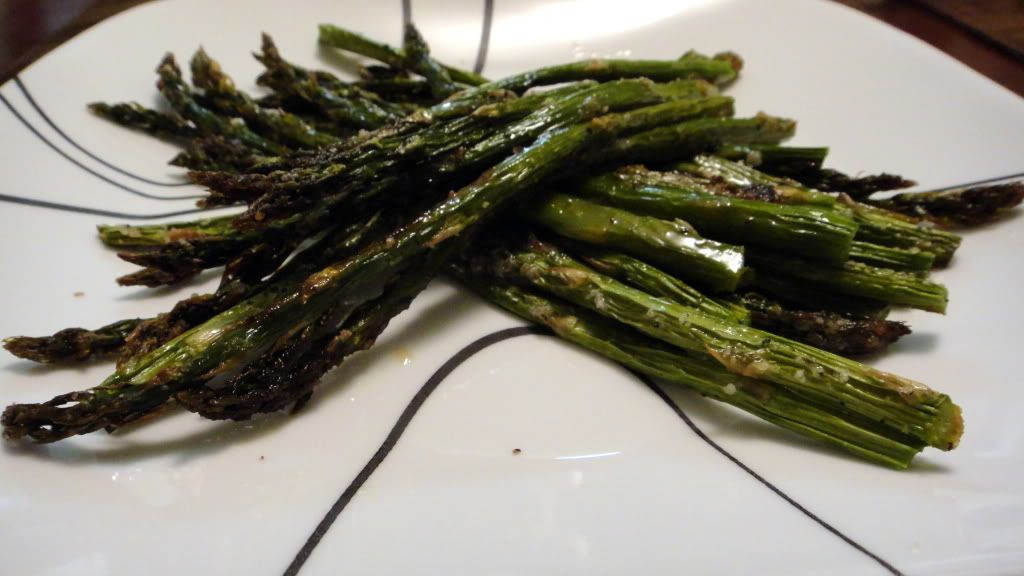 Ingredients:
Bunch of Asparagus
Kosher Salt
Freshly Ground Pepper
Oil (I prefer Vegetable over Olive)
2 Garlic Cloves
Preheat your oven to 400 degrees.
Slice the ends off of each asparagus stick. Rinse and pat dry.
Roll in the oil of your choice, and sprinkle with salt and pepper to taste. (I probably used 1 tablespoon of salt and 1 teaspoon of pepper.)
Transfer to a baking sheet, and grate 2 garlic cloves over the vegetable. (I used a vegetable grater for the very first time, thanks to a tip from Rachael Ray, and I will never use a knife on a clove of garlic again.)
Bake at 400 degrees for 20-25 minutes. No need to turn.
Here is my finished result. They look kind of wrinkly, but the doneness (I thought) was perfect. Please let me know if I am wrong, since I don't have the slightest clue of what they are supposed to be.
I ate just one little stick and fell in love with roasted asaparagus. So much so, that I felt it nessesary to photograph my plate of them. The photo of the ugly foil lined pan was not sufficient for how incredible this little vegetable turned out.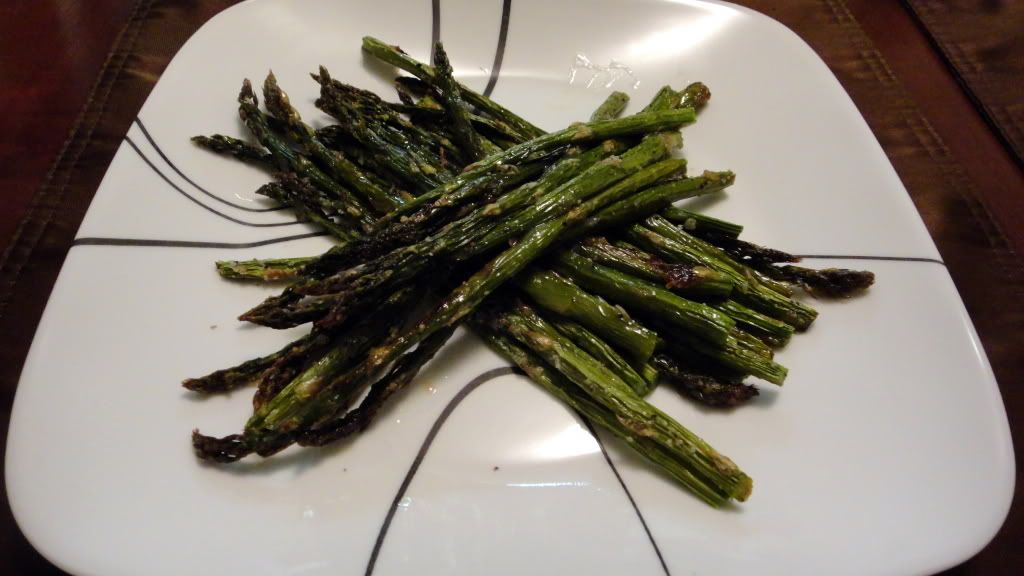 I am what you'd call "A Happy Camper". I can't believe that I've forced myself for
all
these years (all is italisized because I really and truely don't have many years under my belt, if you didn't know) to not try this vegetable, when it was truely amazing. This just goes to show you that you honestly SHOULD try anything once. You might just end up loving it.
Should I be proud or embarrassed that my husband and I devoured that entire plate in one sitting, in under 10 minutes?