For those of you who don't know, I am a full time stay at home Military Wife. My entire life is making our home look pretty. This particular DIY was not inspired from just one single Pinterest pin, but from many. My idea is completely un-original, un-unique, and un-exciting. What is
extremely
exciting, is how cheap I was able to make my version of this wreath. Lets just say,
under $5
cheap. Wow, right?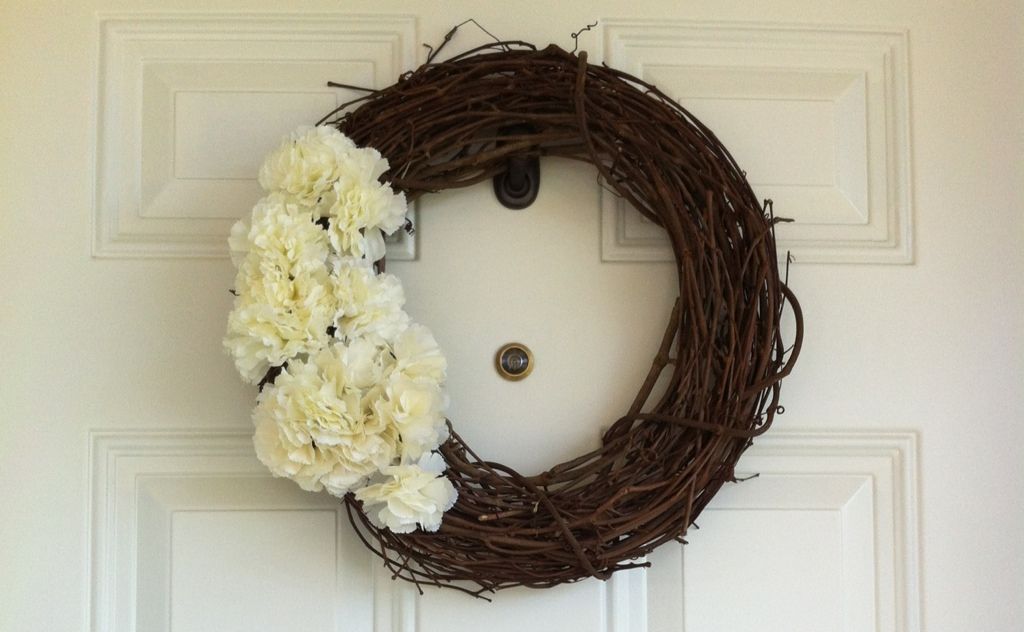 My version of this popular wreath may not be as elaborate as some that you may have seen floating about. But, I really enjoy the simplicity of my wreath. I could have added numbers, letters, colored flowers, etc. But I like to keep it simple. Especially on my front door. Whats is just as exciting about this as the price, is how simple it is to throw together. I personally did not read any of my inspiration pins on how to do it. I just bought a wreath, bought some flowers, and stuck it together. This is how I did it. I'm sure I did something wrong, but if it stays together I'll be satisfied.
First off lets talk about where I got my materials. The wreath I purchased pre-made from Hobby Lobby. The price tag was $3.99, but if you're a Hobby Lobby shopper, you know that there is
always
a 40% off printable coupon. This made the wreath $2.53. Instead of purchasing expensive faux flowers, I chose to shop at Dollar Tree, and spend $2.06 on 2 bunches of flowers.
Total price $4.65
!
To put it all together, I just cut each of the flowers off of the stem at the very bottom. This left at least 4 inches on the stem. I just stuck the stems down into the wreath, and arranged the flowers where I wanted them to be placed at. Once all of the flowers were in, and all of these stems are sticking out the bottom, I simply twisted 2 stems together (they are soft wire, so twisted together easily.) and then tucked the ends into the wreath. This wouldn't be able to be done with any other type of wreath, which is why I chose the wooden one. Here is a photo of how it looks on my front door.
I am extremely happy with the way it looks, and even more happy with the price of it. I hope everyone can take an inspiration, and get their creative juices flowing on how to create that item for less!